Charlotte Rhys Spa Rituals for Feet - Pumice Foot Polish
Hot
June 25, 2012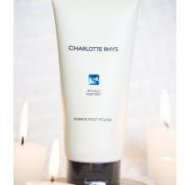 Product Info
Where to Buy:
Online at www.charlotterhys.co.za or Charlotte Rhys Shop - Constantia Courtyard (Cape Town) Charlotte Rhys Shop - V&A Waterfront (Cape Town) R 89.20 for 200ml
Charlotte Rhys Pumice Foot Polish (R89.20/200ml) is a revitalising, stimulating foot scrub that effectively exfoliates, polishes and improves circulation, leaving the skin instantly softer and smoother. With chamomile, witch hazel and tea tree oil to nourish and deodorise. Directions for use: Apply to wet or dry feet. Rub briskly using a circular motion. Rinse and pat dry. For best results with with the Spa Rituals Foot Soak and Spa Rituals Enriched Foot Crème.
User reviews
Charlotte Rhys Pumice Foot Polish
My feet love me for whatever I put on them, my brain on the other hand is a little more fussy.

I must say I always have high expectations of Charlotte Rhys and fragrance is right up there on the list.

The foot polish gives you soft, exfoliated footsies but is missing a little with the luxury fragrance.

Well, a gal can't complain too much when you notice its affordability.
Was this review helpful to you?
Okay, so SHUT THE FRONT DOOR!

These products are heavenly!

The Pumice Foot Polish is absolute bliss! It polishes all the dry and dead skin away and left my feet feeling soft and smooth! And used together with the foot creme, I must tell you, babies bottoms will be jealous! It's sooo soft and smooth and nourished and moisturised and ... and now I'm done because I can burst out in song about this.

I absolutely love the Charlotte Rhys products I received to review!

Oh and girls...

DO check out the website (www.charlotterhys.co.za). They EVEN SELL CHOCOLATES! and a whole lot of other products too!

I'm sold on this product ! GAH!
Was this review helpful to you?