Yardley Quick Dry Nail Varnish in Mango Mischief
Hot
August 12, 2013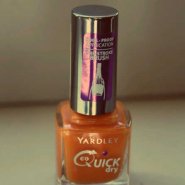 Product Info
Where to Buy
Dis Chem
Clicks
Pick n Pay
Checkers

The Yardley Quick Dry nail Varnish range comes in a small square bottle with a broad application brush. It is available in a variety of colours and can be applied in different intensities, depending on the number of layers painted. Mango Mischief is the perfect day-time and night-out colour.

User reviews
Yardley Quick Dry Nail Varnish in Mango Mischief
The Quick Dry Nail Varnish range by Yardley is by far my favourite varnish to use.
It dries quickly and evenly. My favourite colour is by far the Mango Mischief, because it is just the perfect hue to swap between day and night.
Was this review helpful to you?