Yardley Quick Dry Nail Varnish in Green with Envy
Hot
October 16, 2010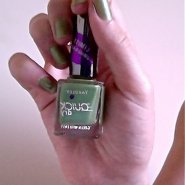 This limited edition colour forms part of Yardley's new summer range. It promises quick drying and long wearing results.
User reviews
Green with Envy
I have zero patience and so I am often guilty of the "drive by manicure": basically I have neither the time nor the patience (and lets be honest, the steady hand), to neatly apply nail varnish, waiting for each coat to dry. Yardley's nail polish, however, can hold its own with any of the other quick drying brands out there. Each layer took less than a minute to dry! The consistency is on the thin side, which makes it far easier to apply without causing ripples or smudges, although at least three veneers are needed to produce the colour that is in the bottle.
Was this review helpful to you?