YARDLEY Glitter Glam 3D Limited Edition
Hot
January 09, 2014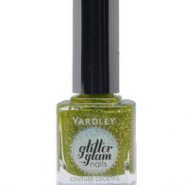 Product Info
Where to Buy
I suppose most good retailers stock Yarley Products. But since this was a limited edition, you might have a problem finding it.
A very very durable nail varnish which leave your nails looking like a piece of broken of glitter ball LOL
User reviews
YARDLEY Glitter Glam 3D Limited Edition in Couture Cocktail
I got this nail polish worth R49 in my Style 36 box. So I have completely mixed feelings on this one. One one hand the polish lasts such a long time and it does not chip away and the glitter does not come off, even when washing dishes. But low and behold, when you really do want it to come off with nail polish remover, you really have to sit there and struggle using more than 10 cotton pads and alot of nail polish remover.

It took me about 10 minutes to get everything off my nails and it made me use 1 cotton pad for each nail. Not only is it a nightmare to remove, It sort of stained my actual nail a light yellow colour. So I was not pleased.

So again mixed feelings. Cos if you want a durable polish that will look so glam on a night out without having to worry about chips or fading, then this is for you. But if you value the time it takes to finally get it off, then really dont waste your time.

I think I would use it again, maybe like once a year!
Was this review helpful to you?