The AWESOME GEL Finish Range
Hot
May 23, 2014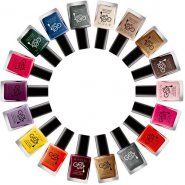 Product Info
Where to Buy
Your Avon Representative or the amazing Avon Brochure App for Free on IOS & Android
Gel Finish Nail Enamel
User reviews
Gel Colour - AMAZING
I always do like a good gel finish polish, but most times the claim is not really what you get. What I must say about the AVON ones, though, they really do deliver. The polishes are very easy to apply, the brush is nice. There is no bubbling issue, and when it dries it does have a lovely glossy gel shine to it. The colours are vivid and bright, and the polish lasts for quite some time without chipping or scratching. If I have a topcoat on, I can get two weeks of wear from the polish without chipping or too much wear, which is pretty amazing. The polish dries very quickly, too, which is a huge bonus for me, and doesn't stain my nails. I love this range and would highly recommend it to anyone. I plan to add quite a few more colours to my collection!
Product Recommendation
Would you recommend this product to someone else?
Yes
Would you repurchase this product?
Yes
Super Shiny Nails
I LOVE this range! I own only 4 polishes so far (that caught my eye).

I have the parfait pink, Royal Vendetta, Lavender Skies and Iceberg White (for nail art and as a base for neons)

These apply beautifully and the shine is amazing!!! It also doesn't chip for at least 3 days and I am very hard on my nails. Out of all the nail polishes I've bought from avon these are my favourite!
AWESOME GEL FINISH NAIL ENAMEL
Wow I am speechless, yes I know a rarity but it does happen lol.

I came across this absolutely funtastically awesome range in Brochure 5 (Page 74 - 75). They had this awesome offer (which they have now carried over into Brochure 6) whereby you can buy one for R59.95 or two for R99.00 and of course you receive their lovely nail art tool free (yes this is also available in Brochure 6).

They have these lovely colours (all colours of the rainbow and then some) which you can choose from, I chose Lavender Sky & Parfait Pink.

When my stock arrived I was soo excited I didn't even look at my wallet that I ordered too, all I wanted to do was play with my nails, and so I did.

The lovely part is all you need to do is make one coat, YES ONE COAT of the lovely polish, wait about a minute, even less it dries quite quickly, and voila you have these stunning nails that look as though you have literally stepped out of the nail salon.

AND I must add that it lasted longer than my usual polishes, I got mine to look like new for 5 days, then I eventually had to wash the dishes, so of course it started to rub off on the tips of my nails.

I strongly recommend that if you have a function to go to and don't have time to get your nails done professionally, then this is your magic in a bottle. Try it for yourself should you not believe me.

I shall post photographs next week, one of my nails freshly done and then 5 days later I shall post another pic and then you can decide for yourself.