SinfulColors Professional Nail Polish – Deep Turquoise with Blue Shimmers
Hot
May 20, 2011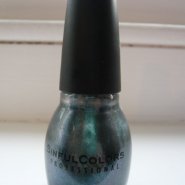 SinfulColors Professional nail polishes come in a 15ml glass bottle. The product is toluene, formaldehyde, DBP and camphor free. It comes in a similar bottle to what China Glaze nail polishes come in. These nail polishes comes in all forms, from shimmery to matte, glittery to neon colours. The one I purchased is a deep turquoise colour with blue shimmers. Unfortunately I don't have the number and name of the colour as that sticker was ripped off.
User reviews
Gorgeous
First and foremost, the name of this shade is "Gorgeous" and that is exactly what it is. Gorgeous! Although the bottle seems really pigmented, the actual polish is quite sheer and you'd need three coats to get a decent coverage BUT pop this baby over a black nail polish for a vibrant and gorgeous hue. I absolutely love this shade. I also purchased it at Ackermans for a mere R20. I'm unable to say how long it lasts, because I've never been able to wear it longer than a few days before I had to remove my polish.
These polishes i first discovered at dis-chem when they first arrived i picked a few up because they were pretty cheap and later did research and realised they were imported and not some random SA brand or some unknown it took clicks a year to get it in stores thereafter and to be honest the polish formulas vary and they are a hit or a miss really. So if you're feeling lucky pick one up and hopefully the formula is alright in that bottle. I purchased sheers and glitters so i had no problem because they are the basics and you cant really go wrong with that type
SinfulColors Professional Nail Polish – Deep Turquoise with Blue Shimmers
This is my second SinfulColors Nail Polish I have tried. I was very impressed with the first one that I reviewed in 399 Morning Delight, but I am disappointed with this one. This polish was also liquidy like Morning Delight, but I had to apply 5 coats to get it the same colour as in the bottle. The first two layers were so sheer I could still see my flesh colour... Only after the 5th coat I was semi-happy. I'm not looking forward to removing 5 coats of nail polish...