Sally Hansen Complete Salon Manicure Nail Polish (Café Au Lait)
Hot
April 06, 2011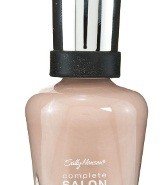 Quality nude nail varnish. Quick drying.


User reviews
I really like these Sally Hansen polishes but was quite disappointed with this colour - it looks fabulous when first applied but after a couple of days it starts to look dirty. I've worn it on my toe and finger nails and tried it often and yet this same problem always happens.
Was this review helpful to you?
SALLY HANSEN COMPLETE SALON MANICURE
I received my Clicks Club Magazine and saw the Complete Salon Manicure. After reading all the promising
reviews I went to Clicks - Tzaneen & Phalaborwa - nothing! they don'y even know what I am taslking about.
I phoned Clicks Customer Care and they promised to come back to me. Nothing! There are many working
beauties that have only so much time to do manicures and pedicures. Why advertise if you do not stock.
I am so excited to see Kashiefa's review as she mentioned that she got hers from Edgars. Thanks Kashiefa.
I love Sally Hansen, it is an excellent product, but we need someone to tell us where to get it.
Was this review helpful to you?
Sally Hansen Complete Salon Manicure Nail Polish (Café Au Lait)
Easy to apply with flat, wide brush. Beautiful glossy colour.
Was this review helpful to you?