Revlon Matte Suede Nail Enamel in Ruby Ribbon
Hot
May 30, 2011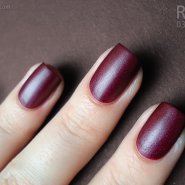 Ruby Ribbon is a gorgeous ruby red matte with shimmer.
User reviews
Revlon Matte Suede Nail Enamel in Ruby Ribbon
I received this nail polish for review from the Beauty Bulletin ladies. This was my first experience with a matte nail polish and I must admit that it takes a lot more "work" than a regular glossy nail polish. This product should not be used with a base coat or top coat because it will ruin the finish. Also your nails must be buffed and ridge-free as this finish is not very forgiving and dries extremely quickly. It's not a true matte but more of a satin finish and the colour is really gorgeous. It applies darker than the colour in the bottle, it's a deep burgundy red with a hint purple shimmer in the light. I love the vintage vampy feeling this polish has which is perfect for the winter season. It's not really a colour I would wear on my hands but I love it on my toes paired with some sexy black sandals it's definitely a winner.
Was this review helpful to you?