Revlon Colorstay Gold Standard Top Coat
Hot
January 10, 2011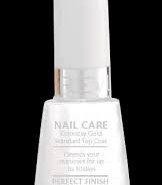 It comes in a normal Revlon glass nailpolish bottle and is a clear top coat which you apply after nail colour.
User reviews
Not the most fast drying but definitely adds shine and wear
I am finishing my second bottle of this top coat. It was one of the first ones I bought but I have since found cheaper alternatives so I won't repurchase again. But here is what I thought of it:

Firstly the packaging. All Revlon bottles have a trapeze shape - the bottle is widest at the very bottom. That makes you waste some product as the brush doesn't even reach the bottom so you can only use up about half of the it. I do however use longer brushes to get to the last drop of it but it is definitly an inconvenience.

I always use base coat and 2 coats of color for my manicure so it helps to use a fast drying top coat to dry all these layers. Unfortunately this is not one of them. If you do your mani in the evening, you can definitely expect sheet prints on your nails in the morning. The only time I use this is when I have the whole day at work to dry my nails while wording on the keyboard...

I will say however that this top coat really makes your nails shine and enhances the colour. As far as wear goes - my nails only start chipping after 4 days of wear....which is a good average for me. I personally believe it is overpriced and therefore won't repurchase... My cheap Yardley top coat works just as well.
Was this review helpful to you?
Manicure Must have!
I never do my nails without this product and it never fails me..
Was this review helpful to you?