Nail Polish
Hot
March 18, 2011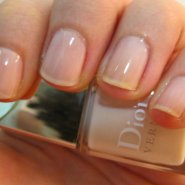 I received a trial of The Dior Nail Polish in the Ivory colour. I have to say this is a really stunning Nail Polish and I really love the brush this larger brush makes the application so much easier.

I was not that made about the colour for myself. It would be lovely on a bride, or someone who likes the more natural look nail polish.

I would certainly look at the other colours they have in the range and purchase this product.
I found it staid on the nails really well as well.

User reviews
Dior Nail Polish in the Ivory colour
Nail polish
This was a fabulous experience to try out this nail polish
Was this review helpful to you?