Essie Vested Interest
Hot
June 25, 2014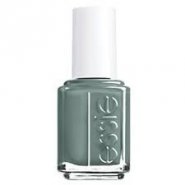 Product Info
Where to Buy
Dischem, online
A stunning teal/grey shade
User reviews
Essie Vested Interest
Nail polish is nail polish. It will chip and do the things that nail polishes do, I believe.

The brush is nice and small, I have small fingers and nails so this works perfectly for me compared to other brands. The colour is great, and vivid from the first application. The polish has a good shine to it but if you want the shine to last, you need a top coat.

I tried this nail polish with a base coat, two coats of the polish and a top coat. It still chipped in 3 days.

I am disappointed because it's very pricey for it to be chipping within the first week of application.

I doubt that I will ever spend any of my money on this brand.
Product Recommendation
Would you recommend this product to someone else?
No
Would you repurchase this product?
No
Was this review helpful to you?
Essie Vested Interest
The Essie polish shows green in all of the photos I took, but it is actually more of a teal/grey. This is two coats, and it applied so well. The Essie website has this to say about Vested Interest: 'Stock up on the classics. this tweedy, woolen cool gray teal nail lacquer has sartorial style all buttoned up.'
Was this review helpful to you?