Essie Nail Lacquer Spring Collection 2015
Hot
October 09, 2015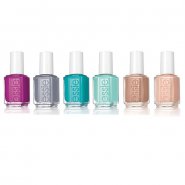 Product Info
Where to Buy
R115 each at Dis-Chem
Whether the look is futuristsic minimalism or nouveau bohemian, the name of the game is flower power. The spring 2015 collection is in full bloom, celebrating the fresh perspectives and energetic nature of the spring season. The spring collection marks the first collaboration with designer Rebecca Minkoff joining essie as global color designer.
User reviews
Essies Nail polish "FLOWERISTA" got me feeling like a Fashionista!
When Essies meets accessories designer, Rebecca Minkoff, one can't help but get excited and want to try every colour in this collection. So I tried the Essies Flowerista from the Nail Lacquer Spring Collection this past weekend and I absolutely love it.

The bright saturated shades are mixed with more neutral hues for a nice juxtaposition between bold and subdued – but again, Flowerista captured my heart but I still can't wait to try all the other colours.

Because I have girly girl tendencies - I naturally went towards the purple looking colour. Flowerista is a rich Reddis Plum Purple nail colour that is so pigmented you can almost get away with one coat.

The Flowerista is a fashion force of colour and if you dare to stand out – this is the right colour for you.
Product Recommendation
Would you recommend this product to someone else?
Yes
Would you repurchase this product?
Yes
Was this review helpful to you?