Disco Brites by LA Girl
Hot
November 12, 2013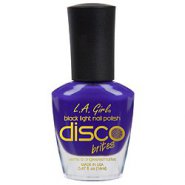 Product Info
Where to Buy
Dischem for R32.99
Disco Brites by LA Girl nail polish has a variety of bright nail polishes that glow in the dark under UV light.
They have a super high shine finish that is perfect for summer
User reviews
LA Girl
LA Girl polishes are amazing! The quality, and most of all the price. My favourites of these products are the matte and the textured sand effect.

Do yourself a favour and give it a go!

I have loaded a review and pictures of the sand effect
Was this review helpful to you?
Disco Brites by LA Girl
I love bright nail polish and when i walked into Dischem, this Disco Brites nail polish immediately caught my eye.

I went for the vibrant purple colour and couldn't wait to try it at home.

The consistency was like all other nail polishes and so was the brush.

I applied the first coat, which was quite thin and so, a second coat was definitely going to be needed.

after a couple of minutes, the first coat was dry and i applied the second coat. i got a very lovely opaque colour and i loved how much the nail polish popped and looked very vivid! my mood was lifted instantly.
The chipping only started about 4 days after initially putting it on, which in my world means it lasts long.

However, this nail polish takes a while to dry, so you need to wear it when you don't intend on doing anything with your hands for a while.
Was this review helpful to you?