Clinique Nail Polish In Nude
Hot
April 15, 2014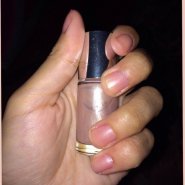 Product Info
Where to Buy
Got mine at Red Square or you can get them at any cosmetic counter.
have been curious trying out Clinique nail polishes as I know Clinique is known for really good face and makeup products(which I have used before). I came across it at Red square and thought I should give it a shot.
User reviews
Clinique Nail Polish In Nude
Price:
Got mine for R170, which I find is way too pricey for a nail polish.

Packaging:
The look is pretty simple nail polish bottle design with a sliver cap, on top of cap it has the Clinique name engraved on it. Which I find really cute.


My Experience using Clinique Nail polish:

I really love the durability with using the Clinique nail polish, I am thoroughly impressed! I purchased the nude color for those days I am not feeling a pop of color. Two counts was all I needed and applicable was so smooth and not too thick, it has the right density.( makes me think why didn't I try this sooner!!) I have had it for 3 days now and still no sign of any chipping.

This might be one of the best nail polish brands I have tried to date.
Was it worth the price?? Yes!!! It lasted for quite some time , I do think that I got what I paid for I was a bit sceptic when I saw the price.

My Overall Ratings :

Packaging: 8/10

Price: 5/10

Quality : 8/10

Long Lasting: 9/10

Candy Factor: 9/10

See Full review on www.beautycandyloves.blogspot.com


Was this review helpful to you?