Bourjois 10 Days!
Hot
April 20, 2012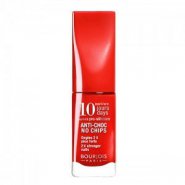 Formulated with pro-silicium and a precise angled touch-up brush for a flawless chip-free manicure with a quick and easy application.
User reviews
Bourjois
I bought this on sale at Clicks and I must say, what an absolute treasure! I normally opt for Sally Henson nail polish but Bourjois 10 days has become my new favourite. Bourjois 10 days no chip literary screams perfection! There are a wide range of gorgeous colours to choose from and even though blue is a bit loud, it's the epitome of class and sophistication. My nails are looking absolutely fabulous and lots of people have asked me which nail polish it is... This is day 4 of using Bourjois 10 days no chip and so far so good. Sally Henson has serious competition because Bourjois 10 days no chip nail polish is definitely staying on my makeup shelf.
Was this review helpful to you?
10 days with the No18 Dark Blue/Petrol from Bourjois...I'm not really a 'blue' person. Not a colour I would go for... and what a surprise. Should I use the word 'amazing' again?! Totally suits my olive skin tone. It comes with an angled brush which makes it easy to apply and or retouch. No streaks. I've been 'wearing' my blue nails for a week now and it still looks glossy, no chips even after washing the dishes for 1000 times! Can only recommend. To the bin my essence nail polishes. Bourjois is here to stay!
Was this review helpful to you?