Ascot Nail Polishes
Hot
April 01, 2014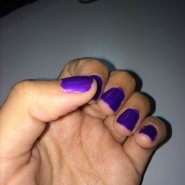 Product Info
Where to Buy:
Pharmacy and cosmetic counters.
Bottled nail polishes in a variety of colors.
User reviews
Ascot Matte Nail Polish
While the quality might not be the best, Ascot's matte polish gives a pretty decent pigmented, opaque colour with one or two coats. Use glossy top coat if you prefer glossy nail polish to matte.
Product Recommendation
Would you recommend this product to someone else?
Yes
Would you repurchase this product?
Yes
Was this review helpful to you?
Ascot Nail Polishes
I was curious using the Ascot nail polishes, saw them at my pharmacy and wanted to try them out.

They pretty cheap but with that price comes low quality. The very next day my nails started to chip already!! I was so frustrated by this.

I love the purple it looks very bright and the formula is not that great. It takes a few coats to get a bright color.

I wouldn't really recommend this its poor quality.

Candy xoxo
Was this review helpful to you?