Sally Hansen Miracle Cure
Hot
April 23, 2014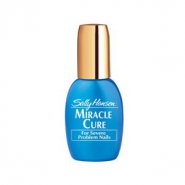 Product Info
Where to Buy
Clicks, edgars, dischem
A quick drying miracle in a bottle
User reviews
Best Nail Strengthener Ever
I have to say that this is by far the best nail strengthener I have ever used. I have the worst nails. Without this Miracle Cure on them they just peel and split and break straight away. I obviously have some issue internally but I take calcium, zinc etc and still my nails are pathetic. However, this Sally Hansen Miracle Cure has really saved my nail's life! They actually grow to a good feminine length now and I can paint them and decorate them without my nail peeling off and ruining the polish on top. This stuff really works. As long as you wear it and replace it regularly it will help you grow your nails and give them amazing strength. It is a high price but it is worth every cent! I swear by Sally Hansen nail strengtheners.
Was this review helpful to you?
Sally Hansen: Miracle Cure
I am a shellac gel junkie. There, i said it! But after 4 months of constant experimentation with colours, my nails needed a break. A friend recommended sally hansen and i decided to give it a go, as cheaper alternatives have never worked for me. Well, im impressed! One week in and my nails are longer and stringer, as the packaged promised. I paid over R100 for this product and i feel its very pricey but worth it, as the 13.3ml will last long. Its super quick drying and gives nails a natural look. Would use again :)
Was this review helpful to you?