Sh'zen Thermal Relief for Feet
Hot
April 30, 2014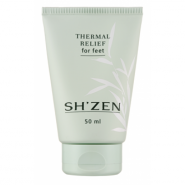 Product Info
Where to Buy:
From a Sh'Zen consultant
A wonderful healing product laced with natural analgesic.
User reviews
Not just another foot balm
I bought this product in winter because of it's name. I managed to get it on a buy one get one free special which was a bargain. The smell is rather heavy and it has a very oily texture but its a great pamper product and not like the usual foot creams. I have to put socks on after applying it because its so oily but it does the trick for me. I spend a lot of time on my feet and look for specialized foot products that can give my feet that extra care and this is one of those products.

Product Recommendation
Would you recommend this product to someone else?
Yes
Would you repurchase this product?
Yes
Was this review helpful to you?
Thermal Relief for Feet
I'm sold on this product. It really really works wonders

The Arnica, a natural anti-inflammatory, soothes aches and pains and Capsicum warms the skin and increases circulation and reduces chronic pain. There are so many ingredients that aids with pain relief and healing.

Just massage into sore feet whenever needed.

I highly recommend Sh'Zen's Thermal Relief for Feet
Was this review helpful to you?