Oh Lief Natural Olive Heel Balm
Hot
May 25, 2017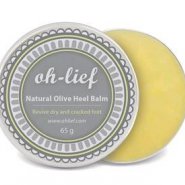 Product Info
Where to Buy
Available online from www.zando.co.za www.faithful-to-nature.co.za Price: R110.00
Oh Lief Natural Olive Heel Balm contains natural ingredients such as extra virgin olive oil, avocado oil, lime oil, tea tree oil and beeswax. The balm revives dry, cracked and tired feet. 
User reviews
Oh Lief Natural Olive Heel Balm
I struggle with dry and cracked heels - lets blame it on genetics and a few months ago I reached out on Twitter for advice. Most of the people who responded said I should definitely try out the Oh Lief Natural Olive Heel Balm (including the Oh Lief brand I might add).

Since then it has been my go to product, I may not have baby soft heels all day every day but I have no suffered from any cracks and even my filing has minimized.

Once out of the shower I lather this product all over my feet and its done.

These products are jammed packed full of goodness and use biodegradable ingredients, such as, Cold pressed extra virgin Olive Oil, Cold pressed Avocado Oil, Beeswax, Lime Oil and Tea Tree Oil.

Added bonus all products are 100% natural and organic as well as beauty without cruelty certified
Product Recommendation
Would you recommend this product to someone else?
No
Would you repurchase this product?
No
Was this review helpful to you?