PEP Bathing Essential 3-step Nail Buffers
Hot
July 22, 2013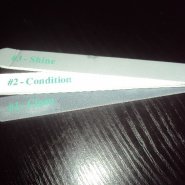 A super effective,dirt- cheap 3-step buffing process for nails. It comes as 3 different textured and coloured nail files.
User reviews
PEP Bathing Essential 3-step Nail Buffers
I know many would criticise this purchase, but I absolutely love it and am not ashamed to say so.

While on holiday at the South Coast a few years ago, the only store close to our hotel was the local Pep store and PnP. While buying some hats and not packed beach stuff I came across their in-house cosmetic range and picked up the nail buffer set. At that time I paid R5.99 which is dirt cheap.

I expected this to be of poor quality and not work well but wanted to look neat on holiday and I was left utterly amazed at the results! My nails were super glossy and smooth. The set consists of 3 nail files that are made to do different jobs resulting in perfectly glossed and buffed nails.
The 1st buffer is a dark grey that is fairly rough and gritty.

All the files have number on them indicating their order and what they are used for. This is written in green. The first file cleans the nails by gently roughing them up, expelling all the dead cells and making the nail the same height. Step 2 is to condition, this gently erases the roughness created by the first file and smoothes out the nail bed. The third and final step is shine, and believe me it really does this to perfection. Even with minimum effort and force, nails are left super shiny and ultra-smooth, no lumps or un-evenness at all.

The effect I achieved from this buffer trio far exceeded my expectations and rivals most luxury brand buffers, Sally Hansen included. Whenever I come across a PEP store, which is in Pinecrest Mall, Pinetown; I always make sure to pop in and stock up on my nail life-saver. It's a great buy that now retails for R9.99. It can easily be popped into your bag or used in the car or on holiday to ensure you always look neat and presentable. The polished sheen look lasts about 2 weeks before a touch up of file#3 is needed… That's Shine Shine Shine baby for under R10.00.


Was this review helpful to you?