Glass Nail File
Hot
February 20, 2013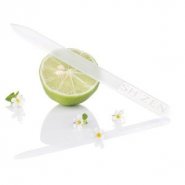 Product Info
Where to Buy:
Sh'Zen Representitive
Shape nails while sealing the edges with this hardwearing glass nail file.

The file has an extra fine, even surface so you can file your nails in both directions. It prevents splitting, and seals the edge of the nail beautifully to keep it strong and neat. Use the Glass Nail File on both natural and artificial nails. It is hardwearing and hygienic and, if cared for correctly, will last a lifetime.
User reviews
I have very soft nails and this is the first time I've been able to file my nails without without causing more damage. It seems to seal the ends as I file leaving a smooth finish. A definite must for those of us who aren't nail experts!
Was this review helpful to you?
This is probably the only nail file I haven't lost, probably because I can't afford to lose it! It's like magic. It looks like other glass nail flies until you've actually tried it. It seals nails as well as protects them while filing. And it can be washed anytime with any soap (I use JJ Baby Shampoo) and germs and dirt can be removed from the file. The file doesn't lose it's roughness and always keeps nails looking amazing. The file is really long lasting, I have mine for 6 years now :)
Was this review helpful to you?