Broadway Nail Art Kit
Hot
November 21, 2013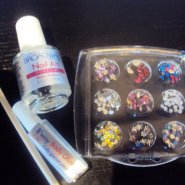 Product Info
Where to Buy
Dischem, Clicks.
A kit containing a clear plastic slide-open holder that conatins different coloured and shaped gems. A little bottle of topcoat, a tube of body glue and a wooden cuticle stick.
User reviews
Broadway Nail Art Kit
So, as always; with exam season in full swing, the studying sometimes becomes very monotonous and doing "other" activities always looks so much more fun! I definitely fall prey to this and often turn to my nails to get me through.

Last week I dutifully succumbed to the boredom pressure and did a traditional French manicure but added some pizzazz with Broadways Nail Art Kit. The kit has everything you need to add instant bling to your nails with ease. I picked it up for R99.99.

The kit consists of a plastic gem holder, this slides open to reveal the many crystals and gems in all their colours ready to adorn your body or nails. A nail art top coat, cuticle stick and body glue.

Nails should first be cleaned, prepped and filed and lastly painted before application of these little gems. They are so easy to apply that the only hard part is choosing a design and colour combination. Paint a layer of clear nail varnish onto the desired nail and then using a tweezer apply the nail art of your choice. Once applied, they will stick to the clear nail varnish and remain in-tact. To further add to their staying capability, use the topcoat provided as it works like almost like a glue to hold the gems in place.

And that it folks... easy as
1. Prep nails
2. File and clean cuticle area and
3. Paint and apply nail art gems
4. Seal with Broadway TopCoat

The colours of nail art provided are: yellow, pink, silver, blue, red and lilac/purple.

The shapes/styles provided are: stars, circles, hearts, flowers and teardrops.

I accented my ring finger with some pink and silver bling and was able to love the look for 8days before the first gem peeled off. Once they fall off, they cannot be "glued" back into place and the entire process needs to be done over. If you collect the gems as they fall they can be cleaned and re-used. 8 days of wear isn't really bad as there is no gel layer to protect the gems from external elements so it's really the product doing the work to keep them on. I have yet to use the gems to adorn my body and so have not used the body glue side of the kit just yet, but with summer on its way I might soon have a review up for that : )

Was this review helpful to you?