Avon Nail Art Brush
Hot
September 11, 2013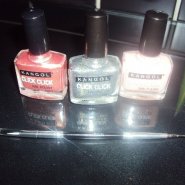 Product Info
Where to Buy
Your nearest Avon Representative
A silver chopstick like applicator that has a dot tool on one end and a white tiny andfine brush on the other.
User reviews
Avon Nail Art Brush:
Firstly big props to AVON for bringing their product range to the here and now!!! It's great to see innovation and reliable cosmetics come from such an affordable, mass produced company. My latest buy was the Avon Nail Art Brush and Dotting tool.

This device is definitely for all you nail art fundies out there, it retails at full price for R49.95 but regularly goes on special as proven twice now in Avon's Brochure 9 and 10. It is a definite must have for your nail tool-kit. The brush end helps create precise lines whilst the tapered end (the dotting tool) is great for painting dots and for picking up tiny and pesky nail appliques.

The tool comes in a neat plastic case that helps keep it clean and protected. The tool itself has a black middle with silver edges that house the different applicators. The dotting applicator is silver whilst the brush end is made of tiny white bristles.

The dotting toll was fun and easy to use once I practised for a bit. I clean the tip and bristles after every use to ensure the tool is ready and clean for when I use it next. It's a great and essential tool for all nail fundi's or those trying to experiment with ease.

I did a combination of dark metallic pink and silver dots on candy pink coloured nails. I'm new to the nail art trend but couldn't resist trying my hand at these crazy dots.

Was this review helpful to you?
Aura - Lustrous High Shine Lip Gloss
It comes in a variety of shades, its not exactly a high shine lip gloss as the description says on the tube, but more of a subtle shine. I find that the texture is thick and milky like (difficult to describe) but in no means sticky or heavy weight, so it is easily applied to my lips. The color is not quiet sheer, so expect the color to really show. It gives a comfortable wear and each application has an average life span of about an hour until you need to reapply. Over all not the greatest lip gloss that I have ever used, but a pretty good attempt from Queenspark. I tried out various items from their range in store - this being from sheer excitedness. The packaging and presentation of this cosmetic line is visually appealing and the high pigment content of their products is really great! I probably wont purchase the lip gloss again, but I would definitely look to them for future budget buys, will do reviews when i eventually purchase more items :)
Was this review helpful to you?