Sassui Rosemary & Sage Foot Polish and Mint & Green Tea Foot Cream
Hot
July 21, 2012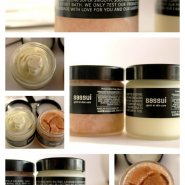 Product Info
Where to Buy:
www.sassui.com
If the thought of exposing your feet fills you with dread, you're not alone! Winter's chill takes a toll on our feet. Just thinking about mine confined in boots…

It's about time I get them ready for sandal season!

A quick search online led me to Sassui.

'Sassui uses carefully blended essentials oils chosen, not only for their incredible skin enhancing properties, but also for their aroma therapeutic effects. The entire range is plant based, making it 100% vegetarian and environmentally friendly.'

The foot care set consists of 2 products:

The Rosemary & Sage Foot Polish and The Mint & Green Tea Foot Cream
User reviews
sassui
i really love this product. it smells so nice and your feet feel so soft after you use this product. would recommend it to any person i know.

love it
Product Recommendation
Would you recommend this product to someone else?
Yes
Would you repurchase this product?
Yes
Was this review helpful to you?
Now, I'm ready to pamper my feet!

Polish up…
With the Himalayan salt crystals that just melt releasing their minerals while rosemary, peppermint and sage essential oils wrap my skin with their antibacterial properties. A gentle process that I will renew to get rid of those rough patches that have accumulated over winter.

Nourish & Refresh…
By applying a thick layer of the Mint & Green Tea Foot Cream. A delicate creamy blend of pure vegetable oils, cocoa butter, beeswax & soothing aromatic essential oils. Some much needed post winter hydration & pampering relaxation!

I then put on socks and let those fine ingredients do the rest!

All that's left is to find a set of pretty pastel nail polish to show off my feet!
Was this review helpful to you?