PEDI Relax Feet cream
Hot
July 25, 2012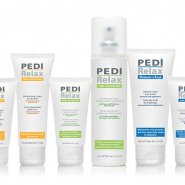 Product Info
Where to Buy:
This is my question "WHERE CAN I PURCHASE THIS PRODUCT WHICH I RECEIVED AS A SAMPLE" Wow I can refer this product to anyone!!! I received a 50ml tube and used it while in Hospital. as everyone is aware Hospital sheets are like nail files. Well I used it 1st thing in the morning and last at night and my feet dont need scrubbing they are soft, silky and look stunning. Thanks
White Tube filled with white cream NOT GREASY by Pierre Fabre
User reviews
A MUST FOR ALL WOMEN WHO WANT SOFT SILKY FEET.
Was this review helpful to you?