Paraffin wax pedicure
Hot
April 11, 2013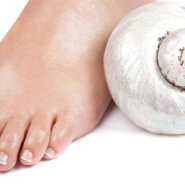 Product Info
Where to Buy:
Placecol and Dream Nails
Pamper your feet with a nourishing pedicure, the feet are soaked and exfoliated, toenails are groomed and then the feet are dipped into warm paraffin wax mask to deeply nourish and moisturise the skin. Tired legs are revived with a relaxing massage, leaving your feet looking and feeling beautiful
User reviews
With autumn coming in, I've been wearing more closed shoes than even. Sadly, I've neglected my feet and I've paid the price in bucket loads of shame. My ignored feet ended up with accumulated build-up of dead skin cells, not a pretty sight. Seeing that my pumice stone and foot scrubs were not salvaging my self-induced situation, I decided to go seeking professional intervention. This is how I got introduced to the world of paraffin wax by the Placecol ladies of the Irene Village.

The treatment is quite simple yet effective. My feet were dipped and held into hot paraffin wax. I screamed, well more like squeaked. Ha-ha, did I mention that I am not crazy about heat on my feet, on a serious; the temperature of the wax was warmer than it was hot. After the initial dip my feet were repeatedly dipped building layers of wax, by this time I was enjoying the soothing heat. Next, my wax-covered feet were wrapped in plastic and put into socks-like booties.

My feet remained wrapped for about half an hour or so before the wax was peeled off. My feet got massaged and pampered some more. Now all I do is maintain the wonderful results of the paraffin treatment. The R240 was certainly worth taking home soft and nourished feet with no dead skin cells in sight. My toe nails looked amazing and shiny too. Now, I am busy trying to fit in another wax treatment, for my hands this time.

Was this review helpful to you?