Foot Spa Beat The Heat
Hot
February 21, 2011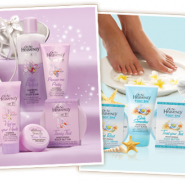 A pampering and refreshing foot spritzer with cooling watermint to revitalise tired or hot feet and leaving them refreshed and tingling.
User reviews
Oh So Heavenly Foot Spa
What a lovely smelling cost-effective product! I also love the cheerful tube! My feet felt satiny smooth after application and seem to take so much longer to dry out. The product contains Shea Butter amongst others. As one only use a tiny bit at a time, the tube lasted and lasted. The price rocks too!

The only con is that one has to wait a bit after application to make sure your feet is completely dry, but a small price to pay for the thorough moisturising effect.
Was this review helpful to you?
(Updated: February 23, 2011)
Beat The Heat
As I walked a lot to and from work, my feet usually got swollen and tired. I bought this in the hope it would help. It didn't. It has a great smell, but does not last at all. I do not feel the tinging or the "freshness".
Was this review helpful to you?