Cleanse your Sole
Hot
September 16, 2013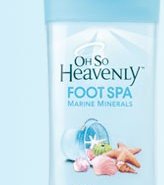 This is a soothing hygiene foot soak. It relaxes, cleanses and soothes your tired feet. The tea tree extracted works at a anti fungal anti bacterial agent.
User reviews
Foot Soak
I bought this at the recommendation of my best friend and I am so in love with it! It smells wonderful and leaves my feet feeling soft and silky, and at the price it is a right steal!
Footsoak
I havent tried the foot soak, but it sounds great. I have used the mask, and the cream in this foot range!
Refreshing soothing sole cleanser
Reduces those tired aching feet by taking a ten min break and pampering your feet.