Kiss - Everlasting French Toenail
Hot
December 13, 2010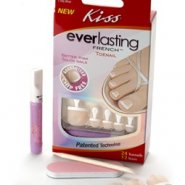 Glue on False toenails, Thats very easy to apply, Apply a little glue to the back of the false nail, a bit to the natural nail, Put nail on, hold down for 5 seconds and break of tabs that at the tip of the nails. Voila. Beautiful french toe nails, that look better than any salon nails.
User reviews
I lost most of my toenails due to my own mistake by asking a private friend to help remove gel. The end result was I hardly had any nail left and the person actually broke my nail (tears) instead of lightly removing the gel. As I am very particular about my hands and feet it was a DISASTOR I went hunting for a instant fix and found Kiss Everlasting Toenails and wolla my nails with the help of Tip Tops Repair product have given me fabulous results without being ashamed to bare my feet. I can again paint my own nails although I am treating them constantly for the summer. Thanks to KISS and TIP TOP Bonnie Van Zyl Randfontein
Kiss my falsies
I love these kiss falsies,I used them on my wedding day,it only took 10minutes to apply and they lasted me well into my honeymoon which was over 2 weeks.They didn't crack or chip once.My wedding photos looked stunning as I had picks done of my bridal shoes,my tones looked amazing,no one believed me when I said they weren't real,the colour is very natural looking.
Kiss - Everlasting French Toenail
Glue on False toenails, Easy to Apply, Chip Free. Lasts atleast 10 days. Available at Clicks for R139.99. Perfect looking french toe nails. That look better than salon nails. Comes in a pack of 24 nails in different sizes, Glue, Manicure stick and mini nail file.