French Click and Go Nails
Hot
January 30, 2013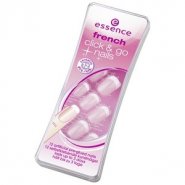 Product Info
Where to Buy:
DisChem and Clicks
popular and totally sought-after: the familiar click & go nails with a french manicure look have a new design as of march. twelve self-adhesive artificial nails give your nails a professional french look as if you've just stepped out of a nail salon! simply select the desired size, stick onto your nail and press down hard. that's it! now your nails are ready and look gorgeous – for up to three days!
User reviews
Definitely 1 of their worst products. Size of nails are odd, the small sticky strip inside was pretty useless, from the sizes that did match (tried out of curiosity) it didn't even make it through the hour. All in all, a waste of money.
Was this review helpful to you?
These nails didn't even last me a day. As soon as I got busy, the nails started falling off. The glue wasn't strong enough at all, so I'm not sure why it would say last up to 3 days. The sizes are also very unrealistic. The sizes are either too small or two big. So I couldn't find a real size besides my pinky finger. Which also fell off so it wasn't because of the size
Was this review helpful to you?