Essence Black and White Self-Adhesive Nail Fashion Stickers
Hot
February 19, 2013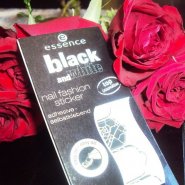 Product Info
Where to Buy:
Dischem and Clicks
A cute little envelope pack containing these easy-to-use nail stickers. It contains 16 stickers (8SETS) in various nail bed sizes.
User reviews
I ABSOLUTELY LOVED this product that I used it again this weekend. The results are still beyond amazing and is still lasting strong a full 4days later. Definitely worth the purchase.

Was this review helpful to you?
This is a brilliant buy and product. It was super easy to use and adds a lot of personality and drama to nails. I used the cracked effect stickers for my Halloween Themed Party and was floored with the results. Not only were the sizes perfect, it was also so simple to apply and shape and lasted a considerable amount of time. I used a little clear nail glue to seal the edge of my nail after the stickers were applied as to keep it from fraying but found that i didnt actually need this. The stickers did begin to fade after a week and eventually had to be taken off on day13 of wear. Definitely 1 of my fav products and is always a staple in my Mani-Pedi Box :)
Was this review helpful to you?