Essence Better Than Gel Nail Tips
Hot
April 17, 2013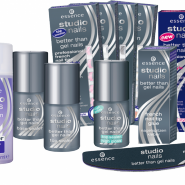 Product Info
Where to Buy:
Dischem or Clicks
From Essence: "The professional french nail tips are super easy to apply and conjure-up a perfect, smooth french line. no chipping, no fading – for up to 10 days."

They come in short and long style, and have tabs on the ends for easy application.

You will need to buy the rest of the set extra, IE the nail tip glue, 3-in-1 remover and top coat.

The nail tips can be bought for R39.99 per set, and there are 18 tips in each set: 2 each of 9 different sizes.
User reviews
I usually love Essence products, and was excited to use the Better Than Gel Nail range. The nails look great the first day you do them, but I find that the edges of the tips start to catch on things and rip after a while. By the end of 4 days I had to take them off as they were starting to look tatty. I have tried them twice (both the long style and short style) and have had to remove both by the end of 4 days. They definitely do not last the 10 days as stated on the packaging!

They are easy to use and I think would be perfect for a special occasion where you want your nails to look good for a night or so.

The glue and remover can be used again afterwards.
Was this review helpful to you?