Elegant Touch Gel Rocks Duo Nail System
Hot
January 30, 2015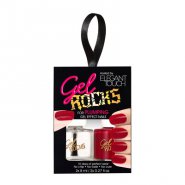 Product Info
Where to Buy:
Dis-Chem for R 119.95.
The 2-step formula provides a super shiny, plumping gel effect for 10 days of perfect wear.
User reviews
Elegant Touch Gel Rocks Due Nail System
Elegant Touch Gel Rocks Duo Nail System is a two-step system that gives you the results of a professional gel manicure at home without the need to cure the nails.

Elegant Touch Gel Rocks uses an innovative gel activating top and base coat system and it is really easy-peasy to apply and it promises to last for up to 10 days.

The Gel Rocks comes in eight gorgeous colours.

All you do is choose a colour, paint the colour on in 2 coats, letting each one dry before moving on. I used 2 thin coats of the Elegant Touch Gel Rocks nude (named Unoriginal Sin), let each one touch dry (I don't have time to hang on forever) and then I applied the gel activating top coat.

I let that dry while I watched some telly and I was incredibly happy with the results.

Normally nail polish only lasts about 2 or 3 days with me. I wash dishes, clothes, mop floors, go to gym everyday, so I'm hard on my hands.

But this Elegant Tough Gel Rocks lasts for ages – even with me!

I'm on day #8 already and only one nail has a small chip - my fault!

It gives a gorgeously glossy and plumped up finish, very similar to the look of a professional gel manicure. It does this with a blend acrylic materials (that act as a plumping activator on the base of the nails) and gel polish colour to deliver a finish that is lifted and super shiny.

I'm super impressed for only R119.95 at Dischem, I'll be buying some more colours for my tootsies.


Was this review helpful to you?