100 Count Bare Nails
Hot
March 21, 2013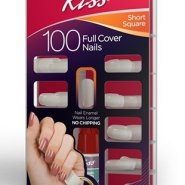 Product Info
Where to Buy:
Foschini Edgars Clicks Dis-Chem
Use Kiss full cover nails and tips to add length to your natural nails. Nail polish wears longer without chipping. Used by professionals.

User reviews
Kiss 100 count bare nails
I bought this kit to keep in the event I ever wish to lengthen my nails.
Applying false nails can become costly if you do it all the time . So buying a kit like this will also you quite a while
The shapes can suit just about any size a nail and they are simple to shape and apply.

I don't like the glue that much though as I feel after a single use it hardens in the bottle so you may want to invest in a more professional glue.
Product Recommendation
Would you recommend this product to someone else?
Yes
Would you repurchase this product?
Yes
Nails
I am always sticking nails on, and hence I am quite experienced with all the brands out there. I find these nails to be one of the strongest and most durable on the market. Not only that, it is great to be able to wear them plain or colourful, or long or short. Great value for money as you get quite a few set of nails out of them.
I love these artificial nails, they come in a solid hard plastic container in 12 different sizes and includes a speed fast set glue. I apply these nails over my natural nails when my nails are too short and don't look very neat either (mainly after I remove acrylics or when I clip my nails really short)

I've tried all brands of artificial nails, but this one happens to be the best I've come across, I change the glue to a stronger professional glue, which actually allows my artificial nails to last up to 2 weeks. Plus due to the buffed surface on the artificial nails, my polish lasts longer and is always chip free.

These nails are quite long and you can adjust them to any size, simply clip them and file them, and you'll have perfectly manicured nails within minutes! I would recommend this product if you love longer wearing nail polish and a longer length nails.