Soraya Hair Root Serum
Hot
May 26, 2015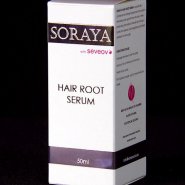 Product Info
Where to Buy:
R149 www.soraya-online.myshopify.com
Follicle treatement to rejuvinate hair growth to thicken and strengthen hair. The treatment contains maca root to promote hair thickness and fight hair loss. Indian Gooseberry contains antioxidants, high levels of vitamin C and fatty acids that strengthens hair follicles and nourishes hair roots. 
User reviews
There are no user reviews for this listing.