Nioxin System 4
Hot
August 20, 2013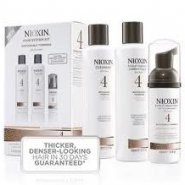 The products I am reviewing are:

Cleanser (aka Shampoo)
Helps to remove follicle-clogging sebum, fatty acids and environmental residues from the scalp skin and hair. Cleanses to provide thicker-looking hair.

Scalp Revitaliser
A lightweight conditioner that helps provide hair resilience and control moisture balance.

Scalp Treatment
Contains antioxidants and botanicals that help to provide a refreshed scalp environment.
User reviews
Nioxin System 4
I have been using this system religiously for 4 weeks now and ready to give my honest feedback.

Cleanser
Feels amazing. It is menthol-infused so when it is in touch with your hair and water it feels amazingly refreshing. It even has a slight tingle to it and it smells deliciously minty and fresh. This shampoo is amazing for clarifying and really does remove all build-up. On its own, before you use the other two products, once you rinse it out, it makes the hair feel somewhat thicker.
My very first impression was that it was slightly drying but having used it continously I have noticed that my hair looks healthy and not dried out at all. Thumbs up from me for this product - even if you consider using the shampoo alone.

Conditioner
This is also fresh and minty and smells great. As far as conditioners go, it is really lightweight and helps to keep the volume. It doesn't leave any sticky residue or build-up whatsoever and I found myself using quite a lot of it and finishing the conditioner before the shampoo (which usually doesn't happen). It does add some moisture back to your hair and works great as part of this system.
If you consider buying it alone for just the conditioning and moisturising properties, please keep in mind that it is very light and I don't think it would help with hair that is severely damaged.

Scalp Treatment.

This is an interesting one. At first I wasn't sure whether it is for treatment or styling but it seems to work for both. It comes out as light foam that you are meant to spread all over the hair. It really gave my hair thicker texture, especially if I blow dry my hair head upside down. My hair looked lifted from the roots. It leaves a slight residue if you let your hair air-dry, but if you use your hair dryer, hair seems to keep that elasticity and shine.

Ok, my overall verdict is that this system does work. I am not sure about the actual new growth of hair since it is hard to spot in just 4 weeks, but the hair that I did have definitely received more volume and texture. The overall condition of my hair was also better after using these products, my hair looked shiny and healthy. I didn't notice much fallout either while using the products. If I run my hand through my hair, it feels like I have more of it:)

I really recommend this system. The only minus is that it is pretty pricey - not something I could afford on a regular basis, personally.

Was this review helpful to you?