Nioxin Hair Treatment System -No 1 (Fine Hair)
Hot
August 12, 2013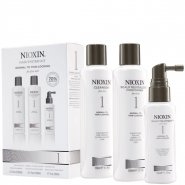 Product Info
Where to Buy
Dischem, some local pharmacies stock this and online.
The hair system pack includes a cleanser shampoo, scalp revitaliser conditioner and scalp treatment in a spray bottle which is very convenient.
User reviews
Nioxin Hair System Kit
This hair care product is absolutely amazing. My scalp felt immediately refreshed and soothed. My hair felt instantly soft and silky and fuller.
Nioxin
The sensation you feel when washing your hair with the shampoo is like it goes to the scalp and penetrates to your hair roots. The conditioner I just wanted to spa my hair in, The tingle of menthol is superb and I don't usually use scalp treatments because of my sensitive scalp,but this one is very gentle even combined with hairfood. I do weaves a lot and my hair is thin, but for the week I had no weave my hair is really fuller. I haven't used this product long enough to say there is a big difference, but there is a definite change in my hair texture. I'll be able to tell in another month.
Nioxin Hair Treatment System -No 1 (Fine Hair)
There are quite a few scents that are associated with specific memories. The very first time I used the Nioxin Treatment System – No 1 it brought back childhood memories of my grandfather giving me mint thins after I said I finished my dinner (whether I did or not). It's strange to think I'm theoretically emotionally connected to a shampoo!

With its very unique minty fragrance it brings a cool menthol sensation after the conditioner is washed off. The conditioner makes tangles a thing of the past and leaves hair very soft to the touch once dried.

I took a photo of the hair loss from the first wash and then again a few weeks later and was shocked that I can't make wigs with the amount of hair lost anymore. At the moment I need a bit of hair spray with all the new growth, just to keep them down until they get a bit longer. I've been specifically avoiding dying my hair so that I can see how long my natural hair colour roots have become also indicating the speed of the growth has been a couple cm in the last few weeks.

Nioxin is definitely a product I will continue using if not to continue sparking happy childhood memories then to allow the new growth to settle and allow my hair to become thicker.