Nioxin Hair System Kit 2- Noticeably Thinning Hair
Hot
August 09, 2013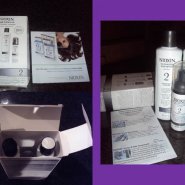 Product Info
Where to Buy
Got my kit from Beauty Bulletin
A 3-pack kit containing a 150ml shampoo and conditioner and a 40ml treatment.
User reviews
Nioxin Hair Kit 2 – update from week 4 till now!!
Okay, so with all the things going on around me, I haven't had enough time to do my update regarding the Nioxin Hair Kit 2 that I've been using for 6 weeks now! Yes you read right- 6WEEKS! My trial version of the kit proved to hold its own when it came to offering me the best possible results in such a tiny package!

I was extremely thrilled when I found out I was to receive this kit to review as I definitely wanted to see some improvement before my birthday next month. I've always either had a bob, shoulder length hair or scraggly bust line hair in length, but this time I was wishing for a miracle when I began using the kit.

The kit comes with a shampoo, conditioner and treatment. These need to be used together to achieve the best results. My 6 weeks of product has come to an end and I am left with the most amazing results! My hair line has started seeing signs of re-growth and once where my scalp was so visible, now has a tinge of black as new hair grows in. My hair has become so incredibly full with body, volume and HAIR!!! This trial kit retails at R470.00 at Pravina's hair salon at Pavillion.

I have a combined hair issue- hair loss and extremely fine "baby" hair. The combinations of these two factors lead me to having numerous hair issues, but not anymore! This Nioxin kit has made all the difference to both my hair and confidence.
Where it once took me 10 minutes to both dry and straighten my hair now takes me at least half an hour. My hair is so full that I now get annoyed when I need an extra jaw grip to hold it in place, lol. Thank you Beauty Bulletin, as that was a feeling I thought I would never experience. My hair is more resilient and stronger and due to this doesn't shed or drop off uncontrollably.

When I now put a comb through my hair I'm left with maybe 6-15 strands on the comb whereas before an entire clump would be around the bristles; I can now use a fine tooth comb without fear of becoming bald. I cannot sing enough praise for this amazing and transformational product and the effect it has!

This may sound like a rollercoaster but I do have one drawback to this kit. Due to the shampoo, conditioner and treatment containing so many chemicals to combat hair loss, there isn't enough moisture and creaminess to the products. This led my scalp to becoming very dry, tight and uncomfortable. When I looked in the mirror close enough, you could see the cracks and layer of dry skin forming; this didn't feel very comfortable as it causes the scalp to get itchy.

As I didn't want to interfere with the product I hesitated to try a hair mask or hot oil treatment and so instead opted for some warmed coconut oil. This solved the dry issue and left enough moisture for the remaining use of the Nioxin treatment.

This was definitely by far the best product review I have ever been fortunate to be part off! My hair, confidence and self-esteem are back with a bang, just in time for some gorgeous new summer styles ;)

Was this review helpful to you?
Nioxin Up-Date
It has now been a full 2 weeks and 4 days since I started using the 3products in my Nioxin Hair Kit 2. The kit works so well but does require a lot of time and a religious routine in order to achieve the maximum results. This is a follow up to my second week of using this wonderful kit.

As you can see in the photos that follow, I have extremely fine hair that clearly allows my scalp to be seen. This isn't always an appealing look and I've longed for the day by "balding" back patch would be covered with lush, strong and voluminous strands of hair. This is slowly happening and I am feeling some very pleasant improvements.

Now for a Re-cap on the kit. This Nioxin Kit 2 is specifically designed to meet the needs of Women who suffer with natural fine noticeably thinning hair. The kit contains a 150ml Shampoo, 150ml Conditioner and a 40ml Treatment. These products have been used religiously by me over the 2 weeks now; I find the treatment to make the biggest impact. The shampoo is a transparent green whilst the conditioner is an opulent white; both of which have an amazing peppermint scent. The treatment is a white froth/foam that bears a more chemical scent with a hint of peppermint.

In this up-date I have included photos from wash 6 to 8. I missed 2 photo up-dates but the results speak for themselves and those 2 days would seem rather insignificant when compared to day 8's results:)

I love using the treatment overnight as when I wash it off the next morning, my hair feels like it's doubled in volume and looks absolutely lush and full. When I do this, the back area of my scalp/ crown looks full and covered with a bed of hair. This to me is the best response I could've ever received from a hair loss product. The treatment is light and foamy which makes application super easy and fun. It works into hair and scalp well and leaves hair with a rather oily texture. Once dried, my hair becomes a tad sticky and clumps up but it washes off with such ease and leaves strands silky smooth.

I have experienced an increase in washing and drying time with my hair, this supports my observation that it has indeed gained more volume and depth. From dividing my hair into 2 sections when straightening I am now dividing my hair into 4-5 sections: ) the strands of my hair are definitely much fuller and plumped-up but I feel that the roots are still very limp and sparse. I am waiting to witness the full effects of the kit after the 4 weeks are up. If new strands develop and my roots become much denser and full then I will most definitely be sold on this product.

So far so good, I love using this kit and am in LOVE with the changes I am witnessing! Check back for my up-date of week 3 in a few days' time:)

Was this review helpful to you?
Nioxin Hair System Kit 2- Noticeably Thinning Hair
This is such a wonderful product review to be part of; one I'm hoping will leave me with a less noticeable scalp and more hair!
I have really shocking hair loss which I'm sure many will be shocked to see in my accompanying images.

I began using this kit on the 31st July, Wednesday and till now the 8th August, Thursday; have washed my hair 3 times using the Nioxin shampoo and conditioner. . The images to follow will be of the product and my hair from the 1st to the 4th wash.

So in total it has been a week and a day since I've started using this 3-step kit. The Nioxin hair system delivers five effects for thicker looking hair:
1. Reduces hair fall due to breakage
2. Delivers denser-looking hair
3. Amplifies hair texture
4. Helps strengthen hair resilience against cuticle damage and
5. Cleanses excessive sebum from the scalp.

Nioxin forms part of a 3-step system that helps to help combat thinning hair and offering immediate and long-term results. The 3-part system comes as a kit, consisting of a 150ml Hair cleanser, 150ml Scalp Revitaliser and a 40ml Scalp & Hair Treatment.

The Cleanser helps to remove follicle-clogging sebum, fatty acids and environmental residues from the scalp skin and hair. It cleanses to provide thicker-looking hair.

The Scalp Revitaliser (Conditioner) is a lightweight conditioner that helps provide hair resilience and control the moisture balance.

The Scalp Treatment is a cosmetic product that contains antioxidants and botanicals that help provide a refreshed scalp environment.

All three products utilise specialised technology to create the optimal scalp environment for noticeably thinning, fine textured, natural hair: BioAmp- Scalp Access Delivery System and Activ Renewal.

The kit comes very professionally and neatly packaged in a white rectangular box with grey and black detailing. The contents are immaculate and packed with the utmost care. All the bottles are plastic and white in colour with black writing and detailing. The bottles of the shampoo and conditioner are very similar and so it was a nice touch to have different coloured lids to differentiate between them. The treatment has a pump action applicator which gently pumps out the white foam treatment.

So, now onto my experience :)
On my first use, I was taken by surprise to the unique peppermint smell of both the shampoo and conditioner. This was un-familiar yet so welcoming to my senses. The smell is so fresh and invigorating that it makes you confident that this product will work. The shampoo is a green transparent gel which is non-runny. On my fingers it did not seem like the shampoo would lather well or even build up to a good foam, I was sooo wrong! The shampoo was easy to apply and built up to an incredibly rich lather with its therapeutic scent.

The conditioner is an opulent white and it too smells like a peppermint dream! The conditioner works through the hair easily and leaves hair soft, moisturised and hydrated. It washes off very easily and does not leave an oily or sticky residue on hair.

After washing with the shampoo, my hair felt very stringy and squeaky, yet extremely clean. My scalp tingled for about 10min after but looked absolutely cleansed and spotless. Once the conditioner was worked through, my hair felt less brittle and got a softer feel to it. Once my hair was towel dried, I squirted the treatment onto my hand and gently rubbed it through my hair and onto my scalp in circular motions. The treatment left my scalp a little reddened for a while but that quickly dissipated.

Even after my second wash, my hair did still feel a bit like straw, my hair was much fuller though and was full of bounce and volume. My roots though, were very limp and were very noticeably sparse on my now clear scalp.

Once I hit wash number.3, my hair is simply radiating! It's absolutely soft to the touch. The colour of my hair is rich and vibrant and with the increase in volume there's no need for extra straightening. It's been a week and a day of using this amazing kit and I am very chuffed with the emerging results, I really do hope that within the next 3 weeks to follow that my hair goes through a transformation.

The pictures that follow are of my scalp immediately after blow drying after each wash. As the weeks progress, I will be sure to update all you fellow hair thinning diva's into my hair-stravaganza ritual. I only hope that I have enough products to last the entire 4weeks as I'm already noticing a low volume ratio of shampoo to conditioner. This is the first time I've tried Nioxin to resolve my hair thinning and falling concerns and am very impressed with the pre-mature results I am noticing.

I would like to thank Nioxin for developing a kit that caters to many women and their unique hair concerns. I've used many other hair loss brands and have never experienced one that was as patented and specifically formulated to meet my OWN hair needs. Their 6 Hair System Kits means that whatever hair you have, falling and thinning can never be an issue, leaving us women with the confidence we need when it comes to showing off our crowning glory!

Was this review helpful to you?