Hot Oil Hair Repair
Hot
September 13, 2013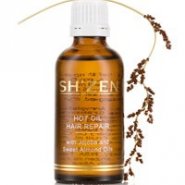 Product Info
Where to Buy
Sh'zen or Reps
Jojoba delivers healing Vitamin E and other antioxidants; Hazelnut restores flexibility and bounce; Sweet Almond contains highly nourishing vitamins and amino acids; Avocado helps repair brittle hair and split ends; Wheatgerm promotes new growth; Rose Geranium restores balance and sheen; Lavender reduces hair loss, helps treat dandruff and other scalp disorders; Bergamot restores balance to the sebaceous glands that lubricate the hair follicle; and Rosewood increases circulation to the scalp, stimulating new hair growth and treating dryness. Use it regularly for hair that feels luxurious and soft, and has renewed body and shine.
User reviews
Hot Oil Hair Repair
I love this product form Sh'zen especially after the winter when my hair is dry and dull. I use the oil 2 time month.
Was this review helpful to you?