Hask Keratin Protein Smoothing Deep Conditioner
Hot
September 09, 2015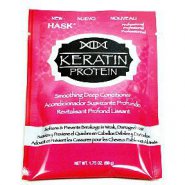 Product Info
Where to Buy
R49.95 at Clicks.
A deep conditioner that helps put back the strength and shine back into weak brittle hair. The Keratin in this deep conditioner smooth the hair cuticle which makes it perfect for over processed or damaged hair and minimizes drying time. It comes in a 50g sachet.
User reviews
Keratin Protein Smoothing Deep Conditioner
I recently got married and since the wedding I am on my 3rd head of highlights after having my natural colour for over a year. We all know what highlights does to the texture of our hair.. Leaves it dried out, brittle and frizzy. So I went to the shops looking for a saving grace and it turned out that I have found it. What made me choose this Smoothing Deep Conditioner was the main ingredient. Keratin Protein, the stuff our hair is made of. Also what they use in a Brazilian blow wave and for only R50 I was super happy. I also wanted something stringer than a conditioner, to not just coat my hair but penetrate it. The directions on the package says to apply it to shampooed hair and leave on for 10min. It was a thick creamy consistency with a soft sweet fragrance which I love. The results: My hair dried quicker , felt stronger , looked shinier and healthier. I didn't struggle to smooth out the frizziness and it stayed that way while smelling great. I have used it twice and there is still lots left in my sachet. Which is the only down fall to this product, I so wish this came in a jar or tub. I wonder what happens to all the remaining product if it looses effectiveness because its open. But none the less, I am really impressed with the results and it was a great buy. I'm definitely sticking to this glorious find!
Product Recommendation
Would you recommend this product to someone else?
Yes
Would you repurchase this product?
Yes
Was this review helpful to you?