Davines Naturaltech Nourishing Vegetarian Miracle Conditioner
Hot
August 15, 2013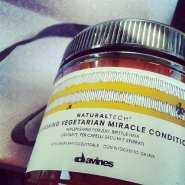 Product Info
Where to Buy:
Carlton Hair salons
Big brown tub, black lid. White and yellow label. White thick hair mask.
User reviews
Davines Naturaltech Nourshing Vegetarian Miracle Conditioner
I have been blessed with long hair but it's hard work ladies. I suffer with intense dryness, breakage and knots that has tempted me to chop it all off! I have been using this hair treat for many years and let's just say, it's the best hair conditioner ever. Period. After one use, your hair feels nourished, weightless and glistens like silk. My tip is to leave it on for at least half and hour. The smell is divine and using it transports you to an exotic spa! The ingredients are all natural which means it's good for your hair. To me this is truly a miracle.
Product Recommendation
Would you recommend this product to someone else?
Yes
Would you repurchase this product?
Yes
Was this review helpful to you?
Miracle Conditioner
So, after being pestered by my hairdresser to invest in this product, I went ahead and spent a little moolah on a treatment for my hair.

I am sure I am not the only one who is told that salon bought products are best for the hair, except no one wants to spend R275 on a conditioner.

I did.

I do not regret it.

My hair got REALLY brittle and dry, and very coarse, during this cold winter, and I was growing tired of the expense of maintaining my hair.

This tub is what they use as in salon treatments (the cheaper treatment) and I bought a few months worth at the cost of one.

There are different kinds, and you need to buy the range suitable to your hair type.

This doesn't smell like a bed of roses, it smells medicinal, but the ingredients are great and I saw the difference after ONE USE.

To better my argument, I will leave my hair untreated for a while, and show before and after photos.
Was this review helpful to you?