Damage Repair Intensive Healing Treatment
Hot
April 06, 2011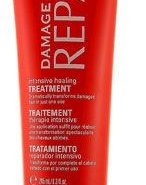 Comes in a 245ml Red Tube. Available for R89.99 in stores. Directions require on to leave the product on for 30 secs for it to work however it does suggest that the product be left on for an extra 30 minutes to ensure maximum results.
User reviews
Great instant treatment for the girl on the move
A constant fixture in my bathroom cupboard.
Was this review helpful to you?