Safeway Hairdryer: Lasts Forever
Hot
February 04, 2014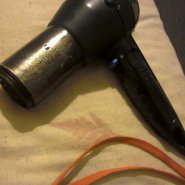 Simple yet effective hairdryer that styles hair in minutes by blasting a good supply of hot air on to hair during styling
User reviews
Safeway hairdryer
I totally agree with you ,I have my Safeway Dryer for nearly 10 years now . I use it every alternate day and it still works like magic . My old faithful will remain with me until the day she decides to pack up . She was a good investment .
Safeway Hair Dryers
Zharina wrote a great article about this product, I just wanted to elaborate that she was right!! Safeway hair dryers lasts way longer then any other hair dryer I have used. For years!!

They are so affordable and they do an amazing job!! My hair usually lasts for 5 days when I use a safeway hair dryer.
Safeway Hairdryer: Yor friend for Life
I don't care what anyone says but I believe that the life expectancy of your hairdryer is determined by how often you use it and how many people in addition to you are also using it.
I have had my little safeway for 15 years! Can you believe it? Neither could I.
I can honestly say it has never let me down but, since I have given up heat styling to focus more on natural hair drying and hair growth, I don't use it as often as I used to. I just use it sometimes when I want to style faster by blasting some mild hot air over my rollers which have been covered with a scarf.

Safeway hairdryers have issues, I know. Sometimes they overheat and switch off then you have to wait hours for it to cool before continuing with styling. I have seen it all before>

Anyway, its my nifty little tool that I am keeping for life!