Carmen Wet n Dry Straightner
Hot
February 13, 2014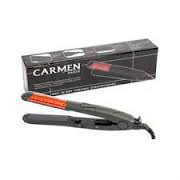 A long lasting wet and dry hair straightner!
User reviews
Carmen
It might be a wet and dry straightner but i do not recommend using it when your hair is wet or damp because it will burn your hair. It is an ok product though, especially for the price.
Product Recommendation
Would you recommend this product to someone else?
Yes
Would you repurchase this product?
No
Was this review helpful to you?
The Last Straightner Youll Ever Need!
I have a naturally course hair texture so relaxers tend not to last very long. With the Carmen Wet n Dry Ceramic Straightner I can keep my hair looking straight and sleek long after the relaxer has faded! It doesnt damage your hair like other Straightners Ive used!!
Was this review helpful to you?