Arthz written review of the Legendard GHD Eclipse
Hot
May 30, 2013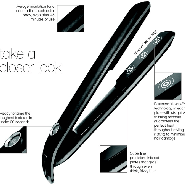 Product Info
Where to Buy
At participating Hair salons, beware of fake GHD's as they do not carry any warranty and they are not the true product.
GHD has yet again revolutionised styling. With Tri-Zone Technology and Aero-Gel insulation, you can never go wrong with styling your hair everyday or for that special occasion where you have got to look your very best!
User reviews
Arthz written review of the Legendard GHD Eclipse
So ever since I read about the New GHD Eclipse on Beauty Bulletin, I've been so anxious to try it out. During my free time, I spent hours researching about the product, reading blog posts to check what all the rave is actually about, and now I actually know why everybody is going crazy about the new GHD Eclipse.

I'm really glad that Beauty Bulletin gave me the chance to try out the new GHD Eclipse because it was the most amazing experience I have ever had, and I really wish I could relive the experience. I was super excited to have my hair styled by the new GHD Eclipse and I actually wanted to test out whether my hair could be perfected using the GHD Eclipse.

Before I begin my experience, I did some research with some online salons and I got a brochure with a lot of information about the new GHD Eclipse which I wanted to share with you.

Features of the GHD Eclipse:
– breakthrough patented Tri-ZoneTM technology in each plate with six quick thinking sensors for precise thermal control
– first pass texture taming for all textures from the rebellious and unruly to full on headstrong afro hair
– a kind and constant heat at an optimal 185oc
– superfine precision finished plates for ultimate heat transfer,
efficiency and smooth snag free styling
– aerogel insulation for the coolest handling ever
– premium feel and design
– ready to tame the toughest textures in under 20 seconds

What you will love about the GHD Eclipse:
– the freedom to unleash your creativity
– a professional tool that rises to the challenge
– the confidence to tackle every hair texture
– a consistently perfect finish
– intelligent, instant heat from finely finished plates
– a styler that will have your clients begging to buy
– an easy-to-use and super efficient kit bag must-have
– a styler that respects hair condition

What you will value about the GHD Eclipse:
– trustworthy quality and performance shaped by stylists
– a styler that responds to the changing world of varied hair textures: super fast texture taming and constantly kind heat
– a tool that makes light work of hard to tame hair
– an opportunity to unlock your creative potential
– a styler that hits and maintains optimum heat in seconds
– a styler that works as hard and smart as you!

So what is the new Tri-Zone Technology?
Six quick thinking sensors and super-thin plates mean perfect heat control for maximum impact and styling power. Bring order to the chaos of hard to tame hair. The new GHD eclipse will empower you to rule over every hair texture, from the first pass to the final flourish. All textures will obey; from the rebellious and unruly to full-on headstrong afro hair.

I've also included a picture which gives a detailed view about the product, because nobody really wants to spend so much money and not know what they getting. The picture includes the features of the product and how the product actually works. (After reading the detailed picture about the GHD Eclipse I went crazy, it was so amazing that so much effort was put into making this amazing hair straightener, especially for our benefit.)

I also wanted to include what some of the experts had to say about the GHD Eclipse. So here are the experts views :

"This tool will change a lot of lives... save a lot of time... and turn a lot of heads!" Kenna, GHD creative director

"You wouldn't have thought there could be much improvement on ghd straighteners but ghd eclipse looks amazing, feels great and even sounds great!" Akin Konizi, hob salons

"ghd has, once again, re-defined hair styling with the new ghd eclipse."
Mark Hayes, Sassoon

"No kit bag will be complete without one." Steve Rowbottom, Westrow

"The eclipse is the biggest thing to happen to heat stylers since the original ghd. Turbo-charge that by 100 and you have the ghd eclipse."
Ken Picton, Ken Picton Salons

"I haven't been this excited since I got hold of my very first ghd styler more than a decade ago!" Zoe Irwin, ghd creative director

With all these great views on the product and all the amazing features that this product has, I would like to present my review to the collection of amazing things to say about this product. I really can't express how magnificent the new GHD Eclipse is. This amazing GHD Eclipse will definitely give you a good hair day, everyday without a doubt.

My amazing experience
So I went to the Gary Rom hair salon in Clearwater which is in itself a wonderful salon to go to. I was warmly welcomed by the Gary Rom Team and Daleen who would give my hair (truly horrendous looking at the time) the ultimate makeover!

We started out by combing through some GHD Thermal Protector Spray which smells so amazing I had to actually purchase the product after my session. The spray is used to protect your hair from any sort of heat damage from styling equipment.

There after Daleen sectioned my hair carefully and began working her magic on my hair with the new GHD Eclipse. I was so surprised when she told me to look at the first curl. Firstly it took less than 20 seconds to actually complete the curl. It happened so fast that I didn't even know she started. The curl was the perfect curl! As she continued doing the curls she allowed me to touch my hair after it has gone through the GHD Styler. My hair felt normal. There was absolutely no heat radiating from my hair where normally I would actually burn my hand.

I learnt about all the new Technologies I mentioned above and was thoroughly impressed with the Tri-Zone technology. In no time, less than 15 minutes my hair was done! I had the most perfect curls I could have. Curls that I would normally think took 3 hours, actually took less than 15 minutes! Even my husband was surprised by this.

After Daleen put the GHD down, I actually touched the styler where you would normally place your hands and I could not feel any heat coming from the machine. Another dumbstruck moment!

Daleen mentioned afterwards that the GHD Eclipse was only R2899 which is such a great price because I purchased my first GHD Styler 3 years ago for the same price. I know that this styler will carry on the legacy of the first styler because my first GHD still works to this day.

What an awesome experience and all thanks to Beauty Bulletin who made it happen!
To view my GHD Experience first hand watch my Video Review right here if you don't believe me :)
Was this review helpful to you?