Vo5 Plump it Up Weightless Mousse
Hot
March 11, 2013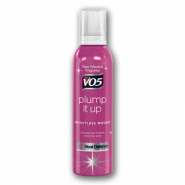 Product Info
Where to Buy
Dischem, Clicks, Your local Pharmacy and Hair Salons, PnP, Checkers, Spar and any other stockists of vO5 products.
A beautiful Glossy Pink can with a plastic white nozzle and lid. The writing on the bottle is done in Black and Whu=ite which is very triking on the pink bottle. The mousse is a foamy white mound that smells delicious. It retails anywhere between R59.95 and R64.95 depending on the store you're purchasing it from and the specials on at that time :D
User reviews
Plump it up Weightless Mousse
As a person with super straight hair that has a tendency to look flat and lifeless, I'm prepared to try anything to give my hair a little volume.
Unfortunately most products leave my hair feeling oily or sticky... That is until I tried V05 Plump it up Weightless Mousse. My hair has volume and bounce without the oily residue. The formula is light and smells divine leaving you feeling gorgeous for the rest of the day. I found that it works best with the V05 Gloss Me Smoothly Shampoo and Conditioner.
Was this review helpful to you?
This is an amazing product that every curly and straight haired lady needs. It lives up to the name of being weightless and is so effortless that you dont even notice you're using a lasting voluminizing product. Most mousses are generally heavy and drag hair down or leave them limp the next day. This Vo5 mousse I found leaves hair fresh, defined and smelling fabulous.

I have extremely fine hair and loved the dramatic bee-hive look I can now pull off using this product. It instantly lifts my roots and adds that extra lift and lustre to my strands. My hair generally dries naturally into a wavy mess. This mousse defines what little movement I do have and gives me that effortless Beach Look that would usually take hours to achieve. I find this works best though when I work the product into my hair after I've washed my hair and allowed it to semi-dry.

What I absolutely LOVE about this product is that it also protects hair from damage caused by heated appliances. This is very useful when you want to go sleek and straight after having a day full of waves.

A truly dual buy that works in creating many hair styles and looks, the Perfect accessory for the Month of Hair!
Was this review helpful to you?