Smooth away those fly away points
Hot
April 15, 2014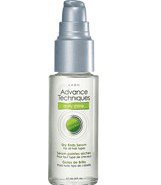 Product Info
Where to Buy
From your nearest Avon store or sales rep
Smooth and protect hair by applying Dry Ends Serum on towel-dried hair before styling. Delivers smooth, shiny hair
User reviews
Great
A few drops of this and my hair looked instantly shinier mainly due to it containing a lot of silicone. Hello shiny healthy glossy hair
Avon Advance Techniques Moisture Sleek Smoothing Serum
Avon Advance Techniques Moisture Sleek Smoothing Serum leaves my hair smooth and sleek. It leaves my hair shiny without any stickiness. I apply in sparingly before blow-drying and flat-ironing.

Smooth silky to the touch hair
I have long hair and for about the last 4 years I have been using only this one hair product to keep them manageable and lustrous. When I got this product I couldn't stop touching my hair. Its nice and light not too oily.