Dove Radiance Colour Range
Hot
December 01, 2013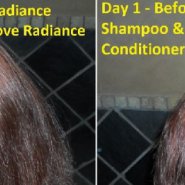 Dove Radiance Colour Shampoo & Conditioner
User reviews
Day 2 - Dove Colour Radiance Shampoo & Mask
Day 2 - Today I have applied the Dove Colour Radiance Shampoo. Once again, it smelled beautifully. I followed with the Dove Colour Radiance Revitalising Mask instead of the conditioner. I must say, my hair was not as well conditioned as on Day 1 when I used the normal conditioner. I did not feel the softness as with the previous day. There was no "wow" fragrance either. I don't normally apply masks on my hair, so I don't have anything to really compare it with. But this is just my opinion. After I towel dried my hair, I started combing it out. It was much more tangly as well. I struggled to get all the tangles out. I then proceeded to blow drying my hair, but once again, only with my fingers. I noticed that my hair was not as shiny as with the conditioner. I will be applying the mask again on Sunday, but this time I will try it with the conditioner as well. On Day 3 I will be using the shampoo, daily conditioner and leave-in conditioner. See you all tomorrow then. Have a fabulous evening. Chat again soon xxxxx

Was this review helpful to you?
Day 1 - Before & After Dove Colour Radiance
Hi ladies! I have finally received my Dove Radiance Colour Range and can't wait to start reviewing.

I have used the Shampoo & Conditioner and the leave-in conditioner. Firstly, I loved the smell! It smelled fresh and fruity. After shampooing my hair (I only used a very little and it made plenty of foam) I applied the conditioner from the middle of my hair to the ends. I immediately felt the softness and I could comb my fingers easily through my hair without any tangles. I left it in for 2 minutes. I then towel dried my hair. I then applied the leave-in conditioner. I combed my hair, and usually I have so much tangles, but this time my hair was tangle free. Also the smell of the leave-in conditioner is yummie. I then blow dried my hair. I did not use my brush, I just blow dried with the hair drier. Usually it takes me a while to get my hair dry, but this time my hair went dry much quicker. I could literally feel the softness of my hair. It felt great and it did really shine. I have done all of this last night, and usually when I wash my hair the night before, my hair would be oily and I would have to wash it again, but this morning I combed through my hair, and it still looked fabulous and clean. Tonight I will testing the hydrating mask and give some more feedback tomorrow morning with before and after photos again.
Was this review helpful to you?