Schwarzkopf Gliss Serum Deep-Repair Shampoo
Hot
September 25, 2015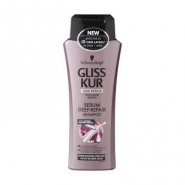 Product Info
Where to Buy
R 66.95 at Clicks.
This shampoo is formulated with Amino Protein Serum to penetrate the hair and repair it from within, reconstructing even extremely stressed hair within 1 week. After 1 week of use, hair will have enhanced bounce and noticeable suppleness.
User reviews
My New besties
I'm giving this beautiful Shampoo 100 out of 5! This is the best shampoo I have ever tried ( and that's pretty impressive coming from a frizzy haired girl who has tried so many) But it works, I have been trying the shampoo and the entire range from Schwarzkopf for over 2 months now and wanted to wait this long before I actual review the products, so I could give you a "true review".
-My hair feels soft and supple
-My hair has way less frizz than it did a month ago
-My hair doesn't knot or get tangled as much
-My hair is not so damaged or weak.

I found it, my new hair bestie:-)
Product Recommendation
Would you recommend this product to someone else?
Yes
Would you repurchase this product?
Yes
Was this review helpful to you?