Kerastase Bain Densifique Bodifying Shampoo
Hot
September 23, 2016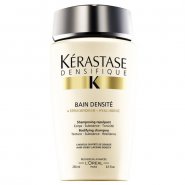 Product Info
Where to Buy
Hair salons nationwide; online at retailbox.co.za for R250
Packaged in a cream coloured 250ml bottle with a distinctive silver screw on top, this shampoo has a clean, luxurious smell with a smooth, creamy consistency.
User reviews
Definitely worth the hype Kerastase!
This is a rather pricey shampoo but it delivers.
I have very fine hair prone to getting oily overnight.
-This shampoo cleanses well without sucking the life and shine out of your hair
-It really volumizes well
-Works well if you like to wash your hair everyday
-Great hair day guaranteed every wash
Another firm favourite that I can always rely on
Product Recommendation
Would you recommend this product to someone else?
Yes
Would you repurchase this product?
Yes
Was this review helpful to you?